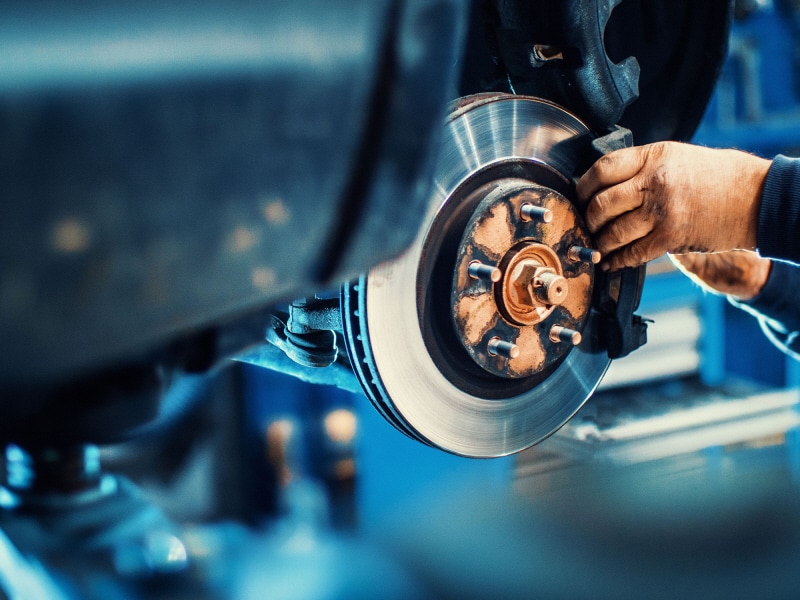 Is your Vehicle due for a brake check? Have no fear, our Dodge Chrysler Jeep Ram Service Center serving Portland is here to help. 
Our service experts at our Service Center pride themselves on serving drivers with exceptional service. Our service center is stocked with all that your vehicle needs to keep it running smoothly. Whether your vehicle needs routine maintenance, like a brake inspection, or a more extensive repair, like a full brake replacement. you can put it all into the trustworthy hands of our technicians at our Dodge Chrysler Jeep Ram Service Center. 
How To Know When Brake Pads Need Replacing
Brake pads usually last between 25,000 and 65,000 miles, depending on your driving habits. If your commute requires more use of your brakes, they will need to be inspected more frequently than if your commute is more of a smooth ride. 
It is important to be aware of the warning sign of your vehicle needing a brake pad replacement. When you hear squealing, screeching, grinding or squeaking when brakes are activated, you should definitely contact our experts at our Service Center serving Portland and together decide if scheduling an appointment is the best course of action. It is not uncommon to notice vibrations in the steering wheel or the sudden smell of a burning fragrance if your vehicle's brakes need to be replaced. 
Schedule a Dodge Chrysler Jeep Ram Service Appointment near Portland, ME
If you notice that your vehicle's brakes are acting funny, and may need service or repair, schedule an appointment today at our Dodge Chrysler Jeep Ram Service Center.
Many drivers around Portland, ME and Falmouth have experienced the apprehension of taking their vehicle in for a service appointment. You've probably gone over all the things that can go wrong, especially if you don't know who you're trusting your vehicle to. Well, we're looking to change that by offering regional drivers an expert team of factory-certified technicians who are equipped with the latest tools and the respect to treat your vehicle as if it were their own.

If you have any questions about our brake services, don't hesitate to contact us today!