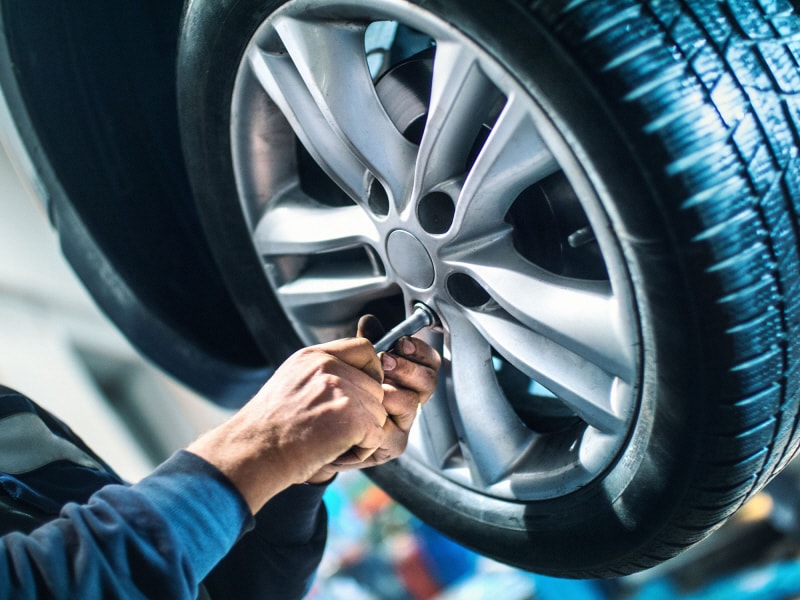 Schedule Service
Our expert team of technicians at our Portland area service center know how important your tires are to your vehicle, especially in Maine where the weather is ever-changing. Not only can we help you select the tires that are right for you, but we can also perform expert tire service like balancing and wheel alignment. 
Both tire balancing and wheel alignments contribute to a smoother ride. A tire balance corrects the weight imbalance on your tire and wheel assemblies, while an alignment corrects the angles of the tires so they always come in contact with the road in the right way. Schedule any service needed on your vehicle with our Service Center in Portland today!
Tire Balancing 
Tire balancing, or wheel balancing, corrects the uneven distribution of weight in the wheels. When your wheels aren't properly balanced, it can lead to problems such as vibration, excessive tire wear, and even cause damage to the suspension. 
While your vehicle is receiving a tire balancing service, its tires and wheels are mounted onto a tire balancing machine. The machine spins the tire and wheel assembly to measure the imbalance so that our technician can precisely install the correct tire weights to achieve a properly balanced wheel and tire assembly. Tire balancing and wheel alignment happen in the same service, but it's important to understand that they are not the same.
Wheel Alignment 
Wheel alignment refers to the adjustment of your vehicle's suspension. The suspension is the system that connects your vehicle to its wheels. This is not an alignment of the wheels themselves. 
A wheel alignment will keep your vehicle from veering to the right or left. It can also improve the handling of your vehicle and stop unusual on-the-road vibrations.
You should seek alignment for your vehicle's wheels when: 
You get new tires
You lower or lift your vehicle
Suspension parts affecting tire angles are replaced or adjusted
You've had a fender-bender or a hard impact with a curb or road debris
It's been a year since they were last aligned
You notice uneven tire wear, steering pull, or an off-center steering wheel
Schedule a Dodge Chrysler Jeep Ram Service Appointment near Portland, ME
If you notice that your vehicle's tires are acting or feeling funny, and may need service or repair, schedule an appointment today at our Dodge Chrysler Jeep Ram Service Center.
Many drivers around Portland, ME and Falmouth have experienced the apprehension of taking their vehicle in for a service appointment. You've probably gone over all the things that can go wrong, especially if you don't know who you're trusting your vehicle to. Well, we're looking to change that by offering regional drivers an expert team of factory-certified technicians who are equipped with the latest tools and the respect to treat your vehicle as if it were their own.

If you have any questions about our brake services, don't hesitate to contact us today!